Default Record Types
Access Manager provides a variety of out of the box Record Types to assist in creating, organizing, connecting and establishing inheritance (parent/child relationship) of formulas, strategies and policies within your records and secrets. The following article will list and define each of the available Records Types in Access Manager.
If you would like to hide Record Types from users, enable the Hidden checkbox.
These hidden record types can still be used; however, they will not appear in the Add Record dropdown menu.
Record Types can also be configured to allow their use in Personal Vaults. If you would like them to be used in Personal Vaults, check the Personal Vault box and if you would not, then uncheck this same box.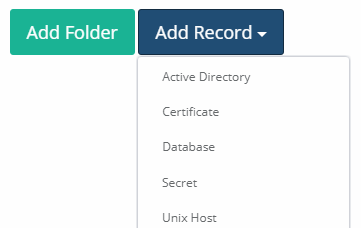 Please note that the ability to create custom record types is only available for System Administrators.
In the following list, each of the out of the box Record Type section includes:
Sample Record Type Name

A description of the main use for this type when creating records.

Can this record type be used for establish remote sessions and/or execute strategies.

A list of the default fields includes with this record type.

Field Name: [field type] Description of the field.
Field Name: [field type:secured] Secured field means that its content is masked and can only be unmasked by clicking the Unlock button. For more information about Secured fields and Unlocking, please read this blog post.